About the Company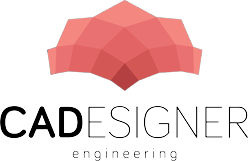 CADesigner Engineering - Department of welded structures was created in June 2015. Its main objective is rendering production services, including steel structures, components for rolling stock, metalworking, welding, painting as well as production of welding, machining and assembly equipment and additional tooling - according to the designs by CADesigner Engineering and cooperating companies.
We are in a position to timely implement projects for our customers thanks to the experienced team of engineers, technicians and workshop employees, supported by well-organized specialists from the Department of Purchasing and Logistics. The plant has a well-equipped workshop, including CNC and conventional machines. As a result, CADesigner Engineering performs most of the details itself with no risk of delays resulting from cooperation with contractors. Moreover, CADesigner Engineering has modern measuring devices and offers control measurements for all the projects.
We work mainly for the railway, automotive, energy and metallurgy industries, but we are open to cooperation with other industries.
---

Employment: 70 employees.

Working surface area of the production shop: 5,500 m2

Crane lifting capacity: 12.5t

Blasting chamber: H 2,800 mm x W 3,800 mm x L 7,000 mm

Painting shop: 390 m2
---